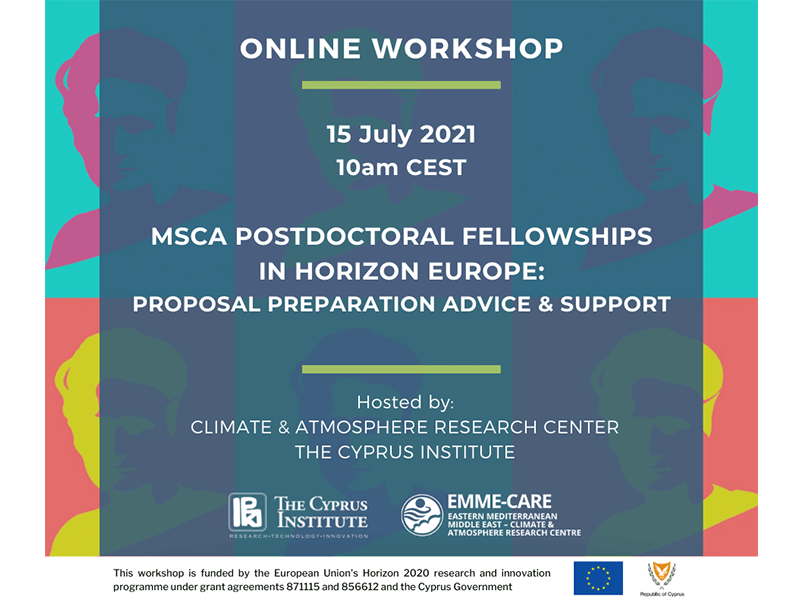 Online Workshop
MSCA Postdoctoral Fellowships in Horizon Europe: Proposal Preparation Advice and Support
When: 15 July 2021, 10am – 2pm CEST
Where: Online. To participate, please register here
About the Workshop
On 22 June 2021, the European Commission announced the MSCA "Postdoctoral Fellowships" 2021 Call. The Climate and Atmosphere Research Center-of-Excellence (CARE-C) at the Cyprus Institute, has announced its expression of interest to host applications from eligible postdoctoral researchers). More information here.
Within that context, the Grants & Tenders Writing Office of the Research & Innovation Support Operations Unit of CARE-C, is hosting an Online Workshop on proposal writing for prospective applicants.
The workshop will briefly introduce CARE-C as a prospective Host. The majority of the event will then focus on providing practical advice and support to prospective applicants on how to:
Better comprehend the content & rules of the call
Understand the "reviewers' mind-set" and use it in proposal writing
Decipher what is the expected content per evaluation criteria;
Utilize practical "hints & tips" for competitive proposal writing
Who is it for
Postdoctoral Researchers in Climate & Atmosphere Research, interested and eligible to apply for an MSCA Postdoctoral Fellowship with CARE-C as their Host Organization. More information on MSCA-PF eligibility here.
Registration
To participate, please register here.
Images and/or recordings of our open public events may be used by The Cyprus Institute and EMME-CARE for dissemination purposes including print and digital media such as websites, press-releases, social media, and live streaming.
PROGRAMME
(times in CEST)
10:00-10:30 Welcome | Brief presentation of CARE-C – CyI as a Host Organization
10:30-11:30 The "MSCA-PF-2021" Call…
"Why" (Purpose)
"Who" (Eligibility)
"What" (Content)
11:30-12:30 "How" to Write the MSCA-PF Proposal
Understanding the "Reviewer's Mind-set"
Real Examples from Evaluation-Remarks
12:30-13:30 "How" to Write the MSCA-PF Proposal
"Deciphering" the Template's Language
Practical Guidance and "Hints-&-Tips"
13:30-14:00 Synopsis and Take-Home Messages
About the Presenter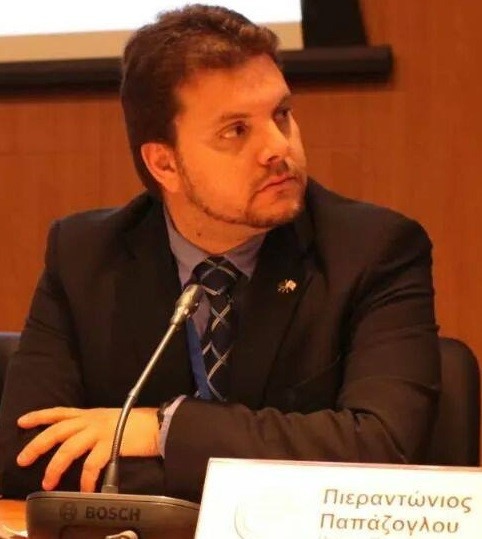 Mr. Pierantonios Papazoglou is the Manager of the Research-&-Innovation Support-Operations (RISO) Unit of the Climate and Atmosphere Research Centre-of-Excellence (CARE-C) at The Cyprus Institute (www.cyi.ac.cy), and former MSCA National Contact Point and Programme Committee Member for Cyprus, from 2008 to 2017. He was appointed also as Coordinator for the EURAXESS Cyprus Bridgehead Organisation, for the same period. Within these functions, he has dealt with a wide range of FP7 as well as Horizon 2020 aspects, and has conducted numerous client consultations and proposal pre-screenings, as well as various communication measures. Especially for MSCA, he is known for being the initiator and main author of the unofficial support handbook "Survivor's Guide". Continuous training and education – e.g. seminars, "Train-the-Trainers", "leadership", and "project management" – complement his profile. He is fluent in Greek, Italian and English.
About the Host Organisation
The Climate & Atmosphere Research Center (CARE-C) is a regional Centre of Excellence based at The Cyprus Institute, with a focus on the Eastern Mediterranean and Middle East (EMME) region.
The Center of Excellence was founded at the Cyprus Institute through competitive funding secured from the European Commission and the Cyprus Government in the framework of the Horizon 2020 Teaming project "EMME-CARE"(Grant no. 856612). CARE-C was established with Advanced Partners the Max Planck Institute for Chemistry in Germany; the University of Helsinki in Finland; and the French Alternative Energies and Atomic Energy Commission (CEA) in France.
CARE-C's work focuses on environmental and climate change research and the creation of sustainable solutions to address relevant societal challenges in the EMME, which has been identified as a climate change "hotspot".
CARE-C is mainly focused on three key areas of activity:
Science and Research on Climate Change and Air Pollution over the EMME region.
Innovation on early warning systems for dust storm and extreme weather events, new cost-effective atmospheric sensors, Unmanned Aerial Vehicles in meteorology and air quality, regional carbon footprint and air quality forecasting.
Education & Training (MSc, PhD, hands-on trainings) on atmospheric science and climate change.
CARE-C operates four Research Departments: Environmental Observations; Environmental Predictions; Impact & Policy; and Innovation. CARE-C has also a number of unique and cutting-edge environmental monitoring Research Infrastructure Units. It is within this context that CARE-C emphasizes on tangible and end-user-oriented air-pollution and climate services, such as: climate downscaling mitigation and adaptation strategies; from the development of high spatial resolution climate projections and forecasting, to the provision of observation-monitoring-surveillance solutions through customized sensors and platforms, as well as to the environmental chemical analyses, and to the undertaking of assessments of risk and impacts on human health, ecosystems, water availability, agriculture, vector-borne disease spreading and economic sectors such as energy generation and tourism.