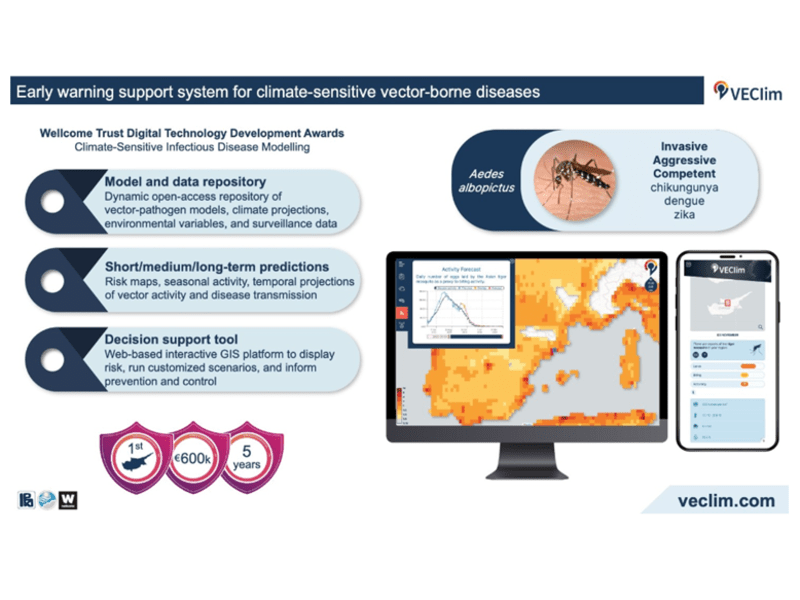 VECLIM presentation by CARE-C researcher at the 2023 EMCA XI International Conference
The first outcomes of the VEClim project, led by researchers of CARE-C at the Cyprus Institute, were presented at the 2023 European Mosquito Control Association (EMCA) XI Conference, which took place in Palma, Mallorca on 7-10 November, 2023.
The annual EMCA conference aims to gather professionals and experts from Europe and beyond with the aim of strengthening cooperation in the technical and operational aspects of mosquito control. This year's theme was "Shaping the Future of the Vector Control in Europe".
Dr Kamil Erguler, an associate Research Scientist of CARE-C, who leads the VEClim project coordination, presented the VEClim project and a test version of the VEClim Portal, the web-based Geographical Information System (GIS) of the programme.
VEClim is a Digital Technology Development project in Climate-Sensitive Infectious Disease Modelling. The project is supported by the Wellcome Trust and hosted by The Cyprus Institute (CyI) – the first award offered by the renowned foundation to a research institution in Cyprus. VEClim aims to improve vector-borne disease prediction and management by employing data-driven, climate-sensitive, geographical modelling to represent vector populations and disease transmission.
You can find out more information about VECLIM at the project's website here.


This  project is supported by the Wellcome Trust 226065/Z/22/Z2023