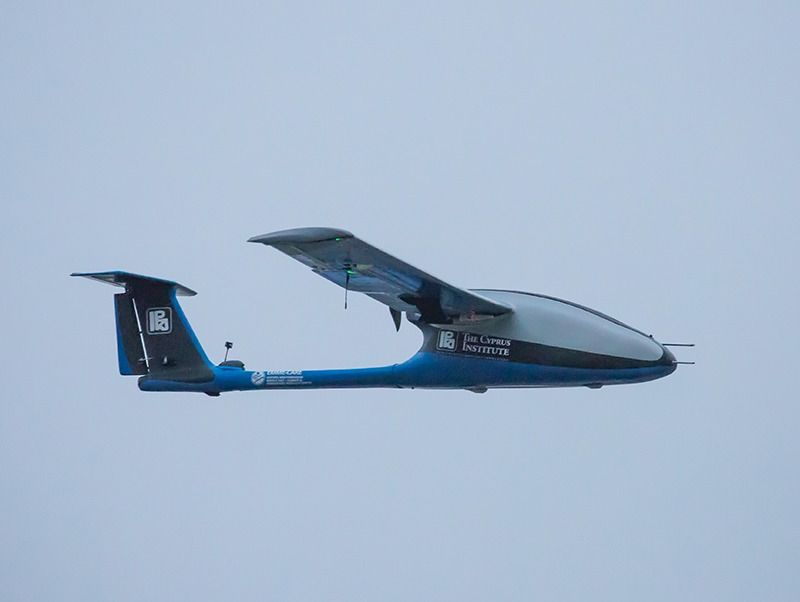 USRL first in Cyprus to be granted with Operational Authorizations for Fixed-Wing and Multirotor Unmanned Aerial Systems
The Unmanned Systems Research Laboratory (USRL) of the Cyprus Institute's Climate & Atmosphere Research Center (CARE-C) is the first in Cyprus and one of the first in Europe to be granted with Operational Authorizations for Fixed-Wing and Multirotor Unmanned Aerial Systems (UAS) under the European Aviation Safety Agency (EASA).
The Operational Authorizations have been issued by the Department of Civil Aviation of Cyprus to be used in the 'Specific' category of operations. This accomplishment demonstrates the USRL's compliance with the relevant parts of EU Regulation 2019/947, and it permits UAS operations beyond visual line of sight (BVLOS). It should be noted that both Operational Authorizations were granted for UAS that were fully designed and developed by USRL, in terms of their airframes, software, firmware, and hardware.
Under the provisions of the relevant Notifications to Airmen (NOTAMs), the 'specific category' Operational Authorizations are valid for use in Cyprus, including in the private paved runway and overhead airspace operated by USRL near Orounda, as well as the National Park of Athalassa in Nicosia (NOTAMs). Additionally, via a dedicated EASA mechanism, the USRL is now able to transfer the specific authorization to fly in other countries in the European Union as well.
The USRL is a flagship facility dedicated to the research and development of cutting-edge technologies in the field of UAS. Through its activities, it supports efforts to address pertinent challenges related to climate change and air pollution by providing high-quality observations of atmospheric pollutants and other relevant parameters. Taking advantage of its own private runway and dedicated airspace, USRL performs regular unmanned flights in Cyprus to document and contrast the long-range transported pollution from Europe, Africa and West Asia, as well as the dust aerosols from the largest desert regions in the world, such as Sahara and the Middle East. USRL also supports the Cyprus Department of Forests with the provision of Unmanned Aerial Vehicle (UAV) services for the strengthening of its existing system in the management of forest fires. Additionally, USRL employs its UAS fleet in a variety of imaging applications, including 3D reconstruction of complex terrains and monuments.
The accomplishment of the Operational Authorizations is yet another testament to the unique value brought by USRL, which is recognized widely in Cyprus, and abroad, with recent international activities including an expedition in Cape Verde coordinated by the European Space Agency, and an ongoing campaign in the Amazon rainforest. More information about the Unmanned Systems Research Laboratory at usrl.cyi.ac.cy