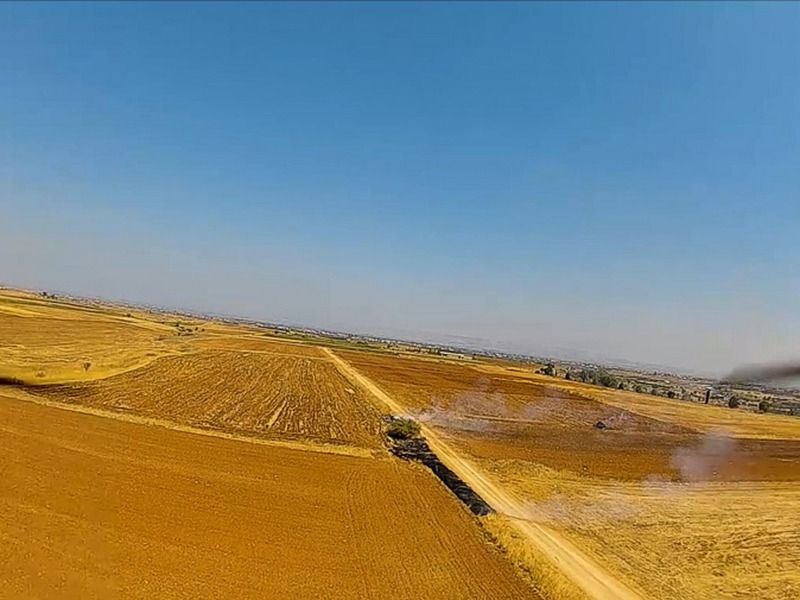 USRL Drone Plays Pivotal Role in Extinguishing Fire Before Spreading
A drone from the Unmanned Systems Research Laboratory (USRL) of the Climate and Atmosphere Research Center (CARE-C), The Cyprus Institute played a pivotal role in the detection and extinguishing of a fire, before it could spread and cause incalculable damage.
In particular, as part of an observational flight, a USRL drone located a fire in the area of ​​Orounda, and alerted the fire department, which dispatched a fire truck that rushed to the scene under the constant guidance of the drone, and extinguished the fire within a few minutes, preventing it from spreading to the surrounding rural areas.
The incident, captured in the video below, was taken by the camera on the USRL drone and demonstrates the operational capability for detecting and dealing with outbreaks that could otherwise develop into catastrophic fires.
The observational flight took place within the cooperation framework and close collaboration of The Cyprus Institute and the Department of Forests, on the use and development of unmanned systems (drones) for the detection of fires. The use of drones provides aerial surveillance and detection of the extent of the fire as well as the timely warning of firefighters and guidance on the ground during the operation.
The USRL is part of CARE-C, the Center of Excellence for Climate and Atmosphere Research in the Eastern Mediterranean and Middle East created through the EMME-CARE project, and specializes in the research and development of unmanned aerial systems and technologies.
USRL has unique know-how in the development of small, lightweight and cost-effective drones with automatic take-off and landing capabilities that carry video / thermal cameras. The drones have been optimized for the development of environmental surveillance systems, which makes them ideal for continuous surveillance and fire protection of inaccessible areas in any weather conditions. Their in-house development has significant advantages over similar commercially available drones, as it includes the complete construction of mechanical components and electronic and software systems with zero dependence on third parties, and allows for the optimal adaptation of drones to the specific task at hand.
Such activities are of the utmost importance for Cyprus, which is projected to be affected sooner and more intensely by climate change compared to other parts of the world, with extreme weather events and high temperatures affecting the island and further increasing the already high risk of fires.
Watch the relevant video via The Cyprus Institute's YouTube channel.