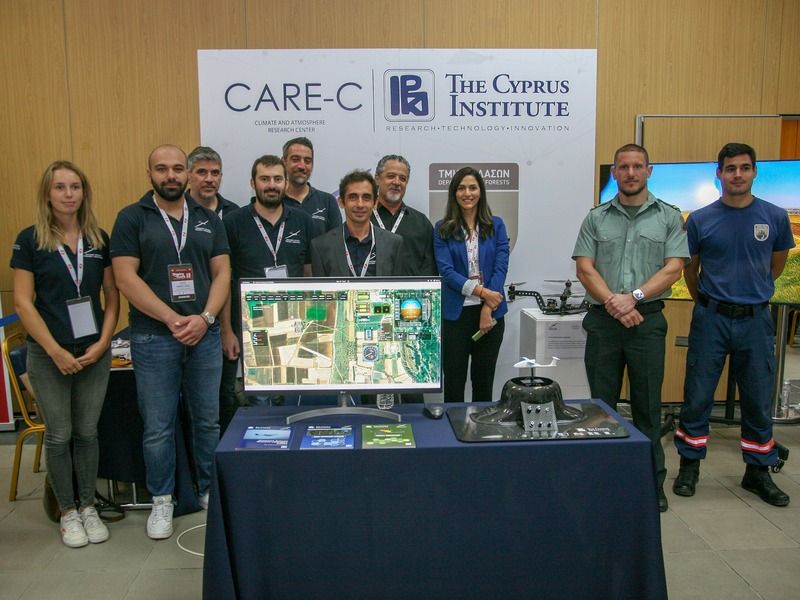 The USRL team at the inaugural FIA Fire Summit in Cyprus
The Unmanned Systems Research Laboratory (USRL) of CARE-C at the Cyprus Institute had a strong representation at the inaugural Fire Summit in Cyprus, organised by the UK Fire Industry Association (FIA), on Thursday, 10 October, 2023 at the Cyprus State Fair in Nicosia.
THE USRL team participated with a booth at the exhibition, in conjunction with the Department of Forests (DoF) and additionally, the Head of Operations and Research and Development Scientist of USRL, Dr Christos Keleshis took part in the conference, organised during the Summit, as one of the speakers at the panel discussion on 'Challenges of the modern Fire and Rescue Services'. During the discussion, Dr Keleshis and Mr Kostas Papageorgiou, Senior Conservator of Forests and Head of the Fire Protection and Forest Engineering Sector at DoF, referred to the close collaboration between the two units, and explained how modern technologies such as drones can assist in forest fire prevention in Cyprus. The panel was chaired by Sir Ken Knight, CBE, QFSM, Former London Fire Commissioner and Renowned Fire Safety Expert.
The aim of the Fire Summit was to improve fire safety in Cyprus, by bringing together professionals of the fire safety industry and public sector to discuss the challenges they face and exchange best practices. It also signified the official launch of FIA Cyprus.