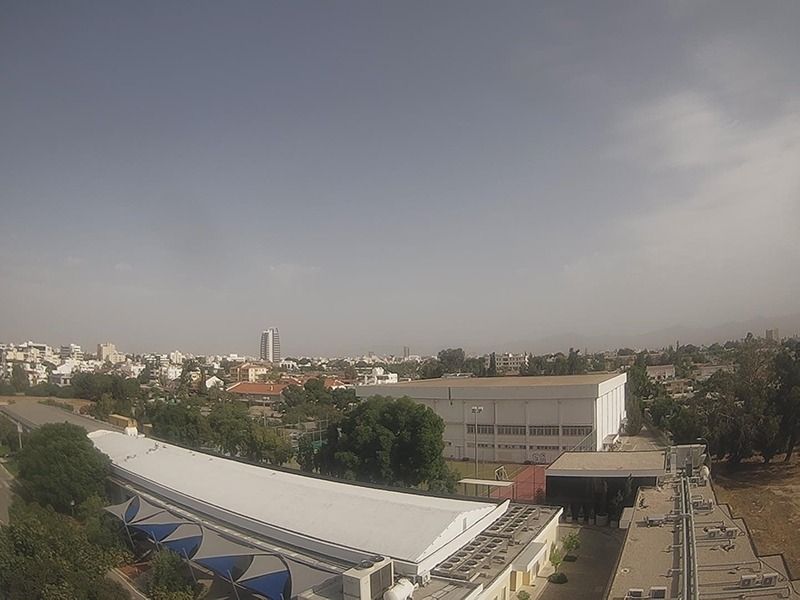 The highest dust levels of the last five years for the month of May were recorded in Cyprus
A negative record of dust levels in the atmosphere was recorded last May, compared to the same period in the last five years. More specifically, the levels of particulate matter concentration recorded in Cyprus in the spring of 2023 were the highest for the month of May in the last five years, based on recent measurements by the Cyprus Institute's Climate and Atmospheric Research Centre (CARE-C).
In recent years, dust episodes have become more frequent and intense in Cyprus, mainly due to the desertification of areas in North Africa and the Middle East, as well as reduced rainfall. The most important sources of dust in North Africa are the desert areas of Chad, Algeria, Libya, and Egypt. Depending on the wind direction and weather systems affecting the Eastern Mediterranean region, Cyprus is subject to dust episodes, which are more intense in the spring months.
Studies by researchers from CARE-C, the Cyprus Institute, indicate that dust episodes in Cyprus are expected to become more frequent, as they are directly linked to climate change. As relevant research highlights, Cyprus and the Eastern Mediterranean and Middle East region have been identified as a global climate change "hotspot", and extreme weather events such as those that can bring about high levels of dust are expected to continue to increase in intensity and frequency in the coming decades. As climate change worsens, causing higher temperatures and drier conditions, extreme weather events or events in other parts of the world are likely to affect our country. It is indicative of the fact that smoke from the recent wildfires in Canada has also been detected in Cyprus.
The impact of frequent dust events is multi-faceted. Photometric data recorded this spring at the Nicosia station of the Cyprus Atmospheric Observatory (CAO), of the Cyprus Institute, shows that visibility can decrease from 38km to 18km, while the particles causing reduced visibility also pose a health threat.
During dust episodes, the safety limits for Particulate Matter (PM) concentrations are significantly exceeded. In particular, during the recent events in May 2023, the concentration of PM with a diameter of less than 10 µm (PM10) measured in Nicosia, at the CAO and the Department of Labour Inspection (DLI) station reached 260 mg/m3. These values are almost six times higher than the air quality limits set by the World Health Organization (WHO).
These particles are typically composed of iron, manganese and silica compounds, and these particles can sometimes carry fungi and bacteria. In addition, dust episodes can also cause respiratory problems. When inhaled, the particles enter the lungs and this can cause respiratory diseases, cardiovascular problems, and allergic reactions in the nose and eyes.
When there is a dust episode alert, it is advisable for citizens, especially vulnerable groups, to limit their movements to open spaces and especially to beaches, where they are more exposed to dust. People who play sports are advised to limit their sport activities to indoor areas. People with asthma and respiratory problems may need more frequent inhalations of respiratory medication. Finally, wearing a mask may reduce exposure to dust particles.