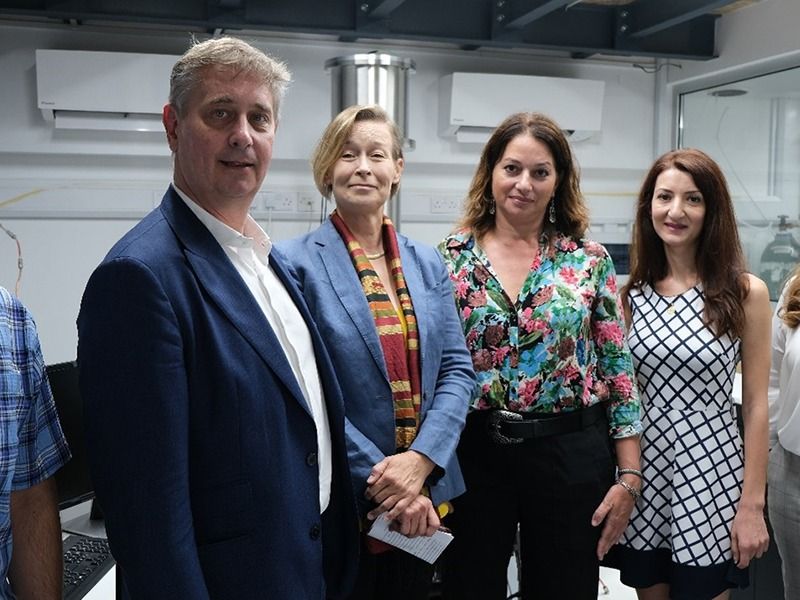 The Director of SESAME'S Research Center and the delegation of DMRID visit CARE-C and the Cyprus Institute premises and infrastructures for strengthening collaboration
SESAME's Scientific Director Dr Andrea Lausi and the delegation of the Deputy Ministry of Research, Innovation and Digital Policy (DMRID) including Ms. Elena Poulli, and Ms. Eleana Gabriel, visited The Cyprus Institute's premises on Wednesday, 28th of September 2022, in order to explore areas of common interest for potential collaboration between Cyprus' Centres of Excellence and SESAME.
The delegation was given an overall presentation and a guided tour of The Cyprus institute's research activities and facilities by CyI Assist. Vice President of Strategy and Development Konstantinos Kleovoulou, and a presentation on the EMME-CARE project by Prof. Sciare which was followed by a discussion.
A meeting took place with the participation of CyI Assoc. Prof. Kirsi O. Lorentz, SESAME Council Cyprus Advisor in the presence of CARE-C Director, Prof. Jean Sciare, CyI Assoc. Prof. George Biskos, Head of the Nano2Lab Infrastructure CyI Assoc. Research Scientist of the Nano2Lab Infrastructure, Dr Spyros Bezantakos, and CyI Post-Doctoral Research Fellow of the Nano2Lab Infrastructure, Dr. Klito Petallidou.
At the end of the visit, the delegation expressed their appreciation for the discussion and for the possibilities of expanding Cyprus participation in SESAME, as well as for the opportunity to visit The Cyprus Institute's premises and infrastructures.