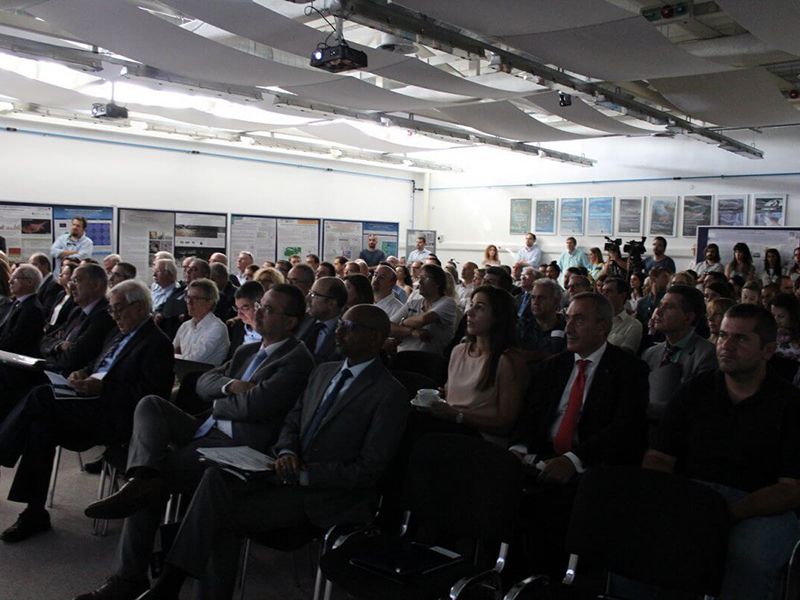 EMME-CARE Public Launching Event…already 1 month ago!!!
EMME-CARE already celebrates one month from the Public Launching Event of 8 October 2019, and a bit more than two months from the Official Start of 1 September 2019..!
During this period many activities have taken place, including the submission of already two Deliverables!
So as we keep busier and busier… we keep the spirit and momentum of our Public Launching Event, and we remember it with emotion:
On Tuesday, October 8th 2019, The Cyprus Institute organized the public launching event for the Eastern Mediterranean Middle East – Climate and Atmosphere Research Centre (EMME-CARE). The event was under the Auspices and was addressed by, the Minister of Agriculture, Rural Development and Environment, Dr. Costas Kadis.
The event was held at CyI's premises in Athalassa and was attended by distinguished personalities from the political, academic and diplomatic communities of Cyprus and abroad, including the Ambassador of Italy, Andrea Cavallari, the Ambassador of the Hashemite Kingdom of Jordan, Mohamad El-Fayez, the Ambassador of Finland, Timo Heino, the Ambassador of the State of Israel, Shmuel Revel, and the Ambassador of the Netherlands, Nathalis Jaarsma. Also attending were the Director of the French Institute, Emmanuel Mouriez, the Head of European Commission Representation in Cyprus, Mr. Ierotheos Papadopoulos, the former European Commissioner for Education, Culture, Multilingualism and Youth, Androulla Vassiliou, the former Foreign Minister and member of the Friends of the Cyprus Institute Association, Erato Kozakou-Marcoulli, and many others.
In his welcoming address, Prof. Costas N. Papanicolas, President of The Cyprus Institute, noted that the establishment of the Climate and Atmosphere Research Centre comes at a perfect timing with the recent regional Climate Change Initiative put forward by the President of the Republic, and in which Cyprus and The Cyprus Institute will play a leading role.
The Minister of Agriculture, Dr. Costas Kadis, noted the importance of establishment of EMME-CARE. "There is no doubt that The Cyprus Institute will successfully tackle this enormous challenge in cooperation with the excellent network of leading foreign Institutions, as well as local institutions and government departments, including some from my own Ministry", he noted.
The Programme of the Launching Event was:
The EMME-CARE Coordinator, Prof. Jean Sciare, gave a very thorough presentation, with the following outline:
More at: https://www.cyi.ac.cy/index.php/in-focus/public-launching-event-for-the-eastern-mediterranean-middle-east-climate-and-atmosphere-research-centre-emme-care.html.