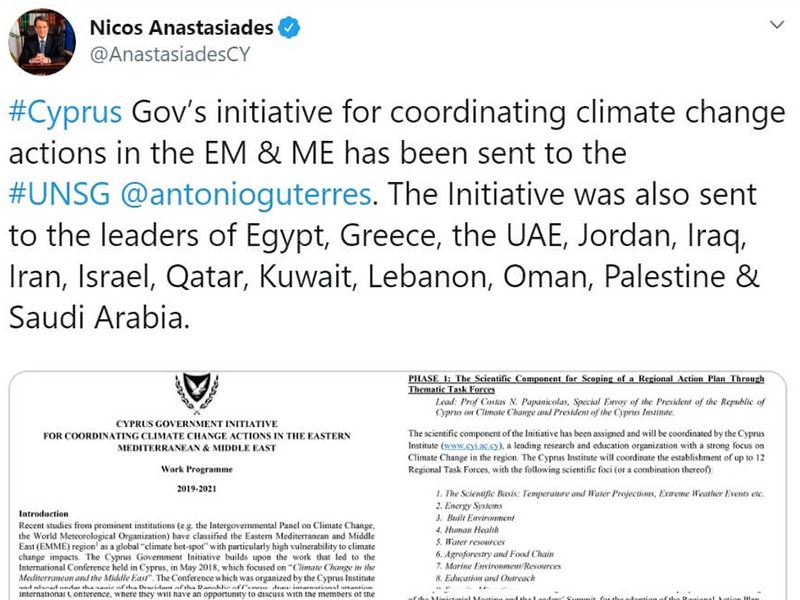 EMME-CARE for #CyprusClimateChangeInitiative at UN #ClimateActionSummit2019
EMME – CARE is very proud to support the #CyprusClimateChangeInitiative of H.E. #Cyprus #President NicosAnastasiades in the #EMME region.
EMME – CARE is very delighted to see that what started in the Climate Change Conference of 2018, now culminates with concrete #TaskForces led in #Science by The Cyprus Institute's Prof. Costas Papanicolas and in #policy by Minister Costas Kadis.
The document of the #CyprusClimateChangeInitiative was sent during the UN Climate Action Summit 2019 in New York to UNSG Antonio Guterres, as well as the Leaders of Egypt, Greece, the UAE, Jordan, Iraq, Iran, Israel, Qatar, Kuwait, Lebanon, Oman, Palestine and Saudi Arabia.
The document as "tweeted" by #Cyprus #President NicosAnastasiades:
Source: https://twitter.com/Anastasiades…/status/1176177534595227650
We are looking forward to #ClimateChangeConference2020 by The Cyprus Institute and EMME-CARE.