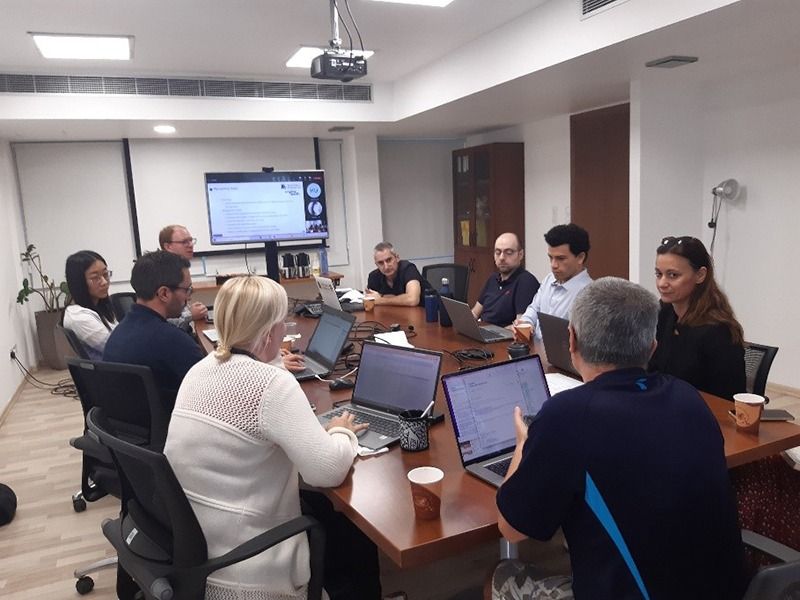 EMME-CARE Boost project workshop: Greenhouse gas monitoring solutions for Cyprus
The EMME-CARE Boost Project workshop, on setting up and developing a GHG monitoring network in Cyprus, was held on the 5th and 6th October 2022, at the Climate and Atmosphere Research Center (CARE-C) premises of the Cyprus Institute. The meeting was attended by representatives of Origins.Earth, Mr. Herve Utard, Chief Technical Officer, Mr. David Duccini and Laurent Millair, Chief Executive Officers and Jinghui Lian, Atmospheric modeller, as well as the Director of the CARE-C Prof. Jean Sciare, Institute professor Philippe Ciais, the Associate professors Stratos Bourtsoukidis and Tuija Jokinen, Associate Research Scientist Jonilda Kushta and representatives from the Emissions and Observations research groups of CARE-C.
In the framework of this EMME-CARE boost project, the center of excellence, CARE-C, and the Suez Group company, Origins.Earth, are joining forces in producing a design study for setting up a greenhouse gas monitoring solution for Cyprus. The network is being designed to monitor methane and carbon dioxide whole-island and city-scale emissions, dynamically map energy consumption patterns and highlight the benefit of more robust and cost-effective sensors for monitoring of co-polluted species.
During the two days of the workshop, the participants discussed about the updates since the last workshop, addressed the atmospheric simulations and inverse modelling results and designed the strategy for the next steps of this collaboration.