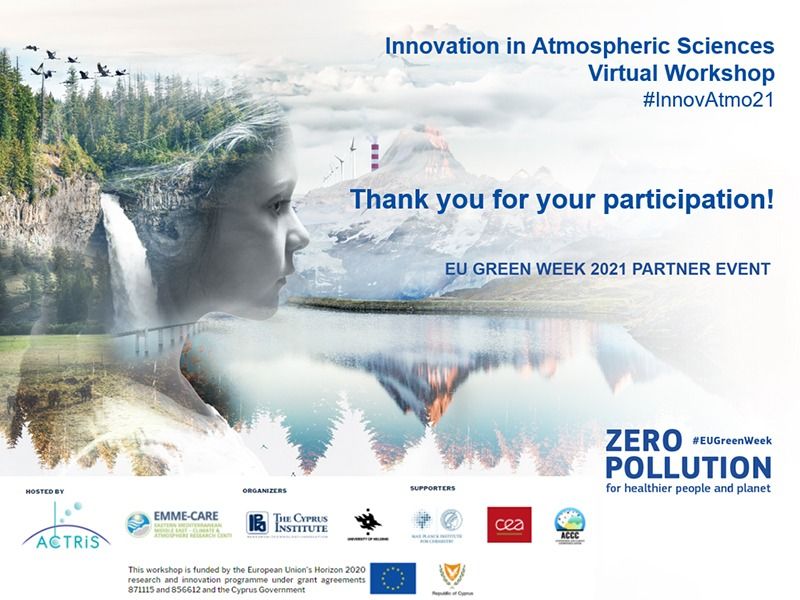 EMME-CARE and ACTRIS successfully host Innovation in Atmospheric Sciences Virtual Workshop
On May 18, 2021 EMME-CARE in collaboration with ACTRIS, co-hosted the 1st Innovation in Atmospheric Sciences Virtual Workshop.
Through a full day of sessions, talks, and activities the workshop brought together atmospheric science communities to discuss the latest innovations in the sector. Participants had the opportunity to find out about the latest technologies, products, services, and instrumentation.
The Workshop's welcoming address was given by Prof Jean Sciare, Director of CARE-C and Coordinator of EMME-CARE, followed by a keynote by Prof Paolo Laj, Professor at the University of Grenoble Alpes and the University of Helsinki and Interim ACTRIS Science Chair. The Programme included 30 Oral Presentations reporting on the main innovations in the field of atmospheric sciences and a selection of 23 virtual PICO presentations with recent relevant advances in the field. Presenters came from universities, research institutions and private companies from across Europe and beyond. Details of the programme are accessible here.
The Workshop brought together nearly 400 participants from 45 countries, and create a unique platform for networking and knowledge-exchange between key contacts from academia, private companies, the public sector and NGOs.
About the Organizers
The workshop was hosted by EMME-CARE and ACTRIS and organized by CARE-C at the Cyprus Institute and the University of Helsinki, with the support of the Max Planck Institute for Chemistry in Mainz (MPIC), the French Alternative Energies and Atomic Energy Commission (CEA), and the Atmosphere and Climate Competence Center (ACCC).
The workshop is also a partner event of the 2021 EU Green Week.