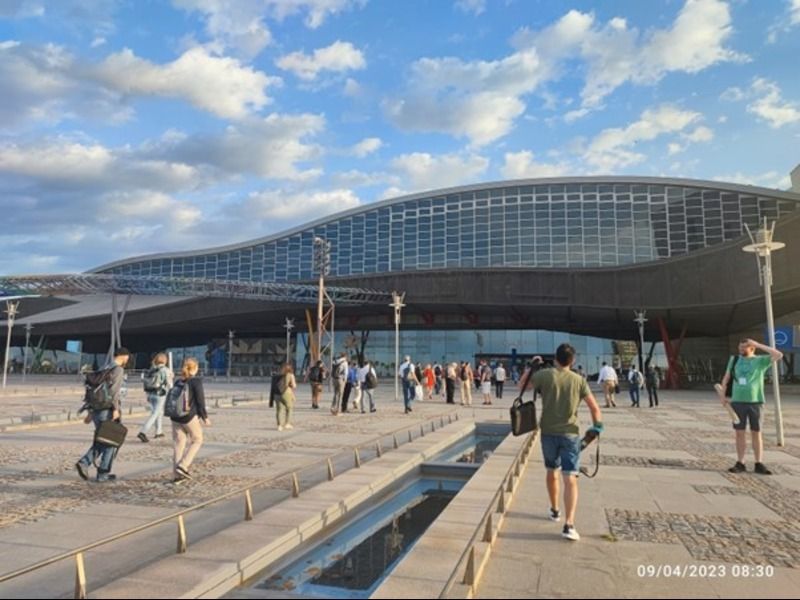 CLOUD experiment results presented at the 2023 European Aerosol Conference
In a recent presentation at the 2023 European Aerosol Conference, which was held in Malaga, on 3-8 September, 2023, Rima Baalbaki, a doctoral researcher at the university of Helsinki, presented the results of research conducted in the context of the CLOUD experiment, in which scientists from CARE-C at the Cyprus Institute took part.
Mrs Baalbaki unveiled for the first-time exciting findings about the crucial role of Methanesulfonic acid (MSA) in atmospheric new particle formation. Her results indicate that MSA has an important role in marine and free troposphere new particle formation and growth, which is currently overlooked.
Atmospheric new particle formation is a complex process that directly impacts climate and air quality. It can influence cloud formation, which, in turn, has a significant impact on regional and global climate.
Methanesulfonic acid is a sulfur-containing compound found in the atmosphere, primarily originating from marine sources. Despite its presence in the atmosphere and the well-established knowledge of its ability to condense on particles, the exact role that MSA plays in new particle formation has remained a mystery until now.
"We've known for a while that MSA can contribute to particle growth, but its precise role in the initial stages of new particle formation and growth has been unclear," Baalbaki explained. "Our research has uncovered the specific conditions under which MSA can play an important role in this process, and we are currently collaborating with associate professor Theodoros Christoudias from the Climate and Atmosphere Research Center (CARE-C) at the Cyprus Institute, to integrate our findings into comprehensive atmospheric climate modelling, thus revealing the global significance of MSA in new particle formation". These findings hold the promise of enhancing the accuracy of new particle formation representations in climate models.
This research was conducted at CERN, the European Organization for Nuclear Research, in a well-controlled experiment that replicated atmospheric conditions. It is part of the CLOUD experiment, a collaborative project involving an international team of researchers, including scientists from CARE-C at The Cyprus Institute.
Mrs Baalbaki acknowledged the important contribution of all researchers and scientists within the CLOUD collaboration. "Our findings owe much to years of dedication and investment in conducting the CLOUD experiments," she noted. "It is the result of a multidisciplinary team of scientists, each bringing their unique expertise to collectively advance our understanding of the world around us. I am also very grateful for the EMME-CARE project for contributing to the funding of this study".
These findings are currently in the final stages of preparation for publication in a scientific journal, making them accessible to the broader scientific community. Meanwhile, this year's CLOUD experiments commenced on Monday, September 25th, 2023 and will continue until early December, 2023 promising further exciting discoveries and a deeper understanding of atmospheric processes.
The Cloud Experiment was supported by the EMME-CARE project, which has received funding from the European Union's Horizon 2020 research and innovation programme under grant agreement No. 856612 and the Cyprus Government.