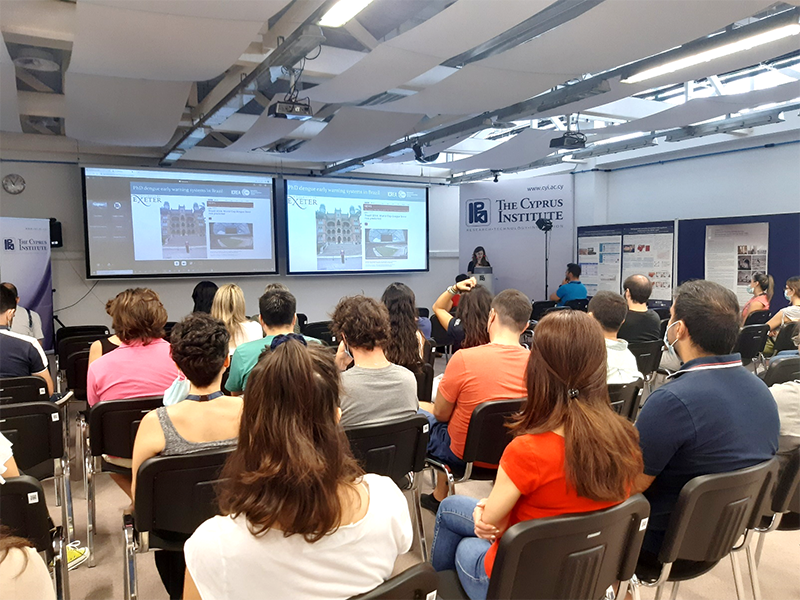 CARE-C Seminar on tracking and predicting the impacts of climate change on infectious disease risk
On the 14th of July and within the framework of the CARE-C Seminar held on hybrid mode at the premises of The Cyprus Institute, Dr. Rachel Lowe from the Barcelona Supercomputing Center's Earth Sciences (BSC) department, delivered a presentation on "Tracking and predicting the impacts of climate change on infectious disease risk", by providing information about her career background specialized on the topics of climate change and infectious disease research as well as by giving examples of projects that focus on the warning systems.
Dr. Lowe, has recently joined the BSC department and leads the Global Health Resilience Team, whose mission is to apply a transdisciplinary approach to co-designing policy-relevant methodological solutions, to enhance surveillance, preparedness and response to climate-sensitive disease outbreaks and emergence.
Having obtained a PhD in Mathematics at the University of Exeter in 2011, Dr. Lowe's thesis focused on spatiotemporal modelling of dengue epidemics in Brazil. Since her PhD, she conducted cutting-edge methodological research on disentangling the impacts of global environmental change on infectious disease risk and developing impact-based forecasting models to inform disease control and prevention strategies. She has published analysis and policy papers on modelling climate-sensitive diseases, with a focus on integrating seasonal climate forecasts in dengue early warning systems in the Americas and Southeast Asia. Among other achievements, in 2018, Dr. Lowe, won the International Society for Neglected Tropical Diseases Water Award for Research, in recognition of the quality of her research on the linkages between hydrometeorological extremes and dengue outbreaks and the multi-sectoral relevance for policy and practice.
During the seminar, Dr. Rachel Lowe gave an overview of projects and collaborations that develop early warning systems for climate-sensitive diseases in Latin America, the Caribbean and South East Asia and introduced the new Lancet Countdown in Europe initiative as well as the new projects of the BSC Global Health Resilience Team, including the Wellcome Trust funded project HARMONIZE and a new Horizon Europe project IDAlert.