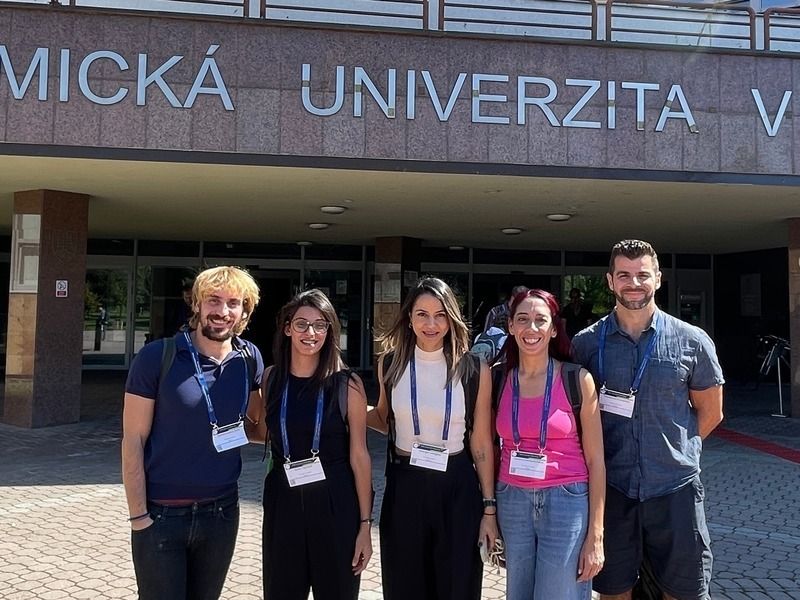 CARE-C researchers participated and received numerous awards at the EMS conference in Bratislava, 2023
A group of CARE-C researchers of the Cyprus Institute delivered presentations on their recent research outputs, some of which also received awards for, at the European Meteorological Society (EMS) Annual Meeting 2023, that was held at the University of Economics, in Bratislava, Slovakia, from 3 to 8 September 2023.
More specifically, Dr. Theo Economou (Associate Research Scientist), presented "Quantifying the synergy of environmental stressors on human mortality" at the Human Biometeorology session and his work was awarded the "Outstanding Poster Award" .
Dr. Georgia Lazoglou (Post-Doctoral Research Fellow), presented "Calculation of future Wet and Dry spells duration in Europe, using bias corrected data from the Q-GAM method" at the Deriving actionable information from climate data session. The work was awarded the EMS Young Scientist Conference Award.
Anna Tzyrkalli (PhD Student) presented, "Quantification of the Urban Heat Island effect using paired station data in the Middle East and North Africa region" at the Cities and urban areas in the earth-atmosphere system session. The work was awarded the Tromp foundation travel award to young scientists. During the same session, Dr. Katiana Constantinidou (Post-Doctoral Research Fellow) presented "How thermally comfortable are cities in the EMME region simulated to be in the future?" , Giandomenico Vurro (PhD Student) presented"Evaluation of WRF model PBL schemes for highly resolved WRF-BEP/BEM simulations over Nicosia urban area" and finally, Konstantina Koutroumanou-Kontosi (PhD Student), presented "Modelling and Evaluating the Urban Thermal Environment of Nicosia through the Combined Use of WRF and Satellite Observations".
The EMS annual meetings aim at fostering exchange and cross-fertilization of ideas in the meteorological, climatological and related communities, focusing particularly on strategic issues relevant to the future of meteorology in Europe. The 2023 EMS meeting was attended by 633 participants from 43 countries: 523 onsite in Bratislava and 110 online from across the globe.