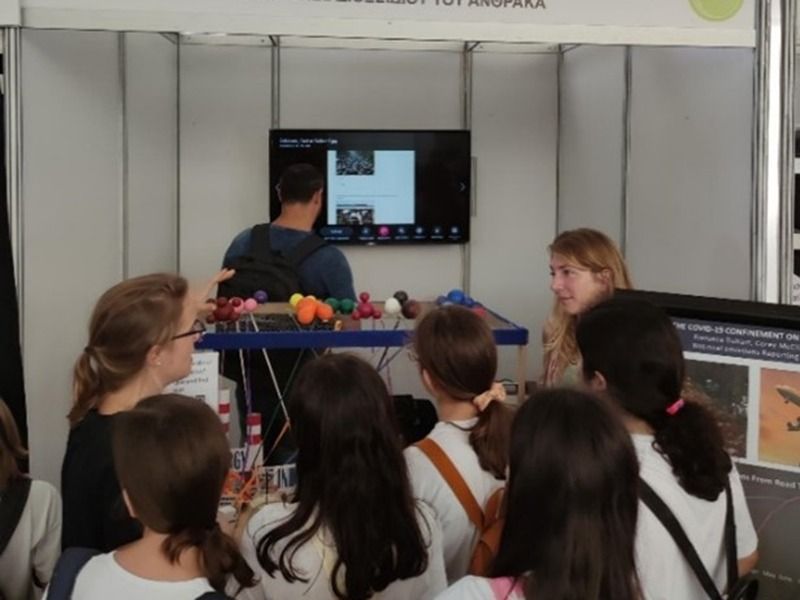 CARE-C Researchers at European Researchers' Night 2022
On Friday, 30th September 2022 the 17th European Researchers' Night event was held at Eleftherias Square in Nicosia.
This annual event aims to promote the importance of research, technology and innovation, and takes place simultaneously in 350 cities across Europe and beyond, with the participation of more 1,500,000 visitors every year. Within the framework of the event entitled "Mission: INSPIRE", scientists, academics, researchers and entrepreneurs presented their activities and achievements to the public.
CARE-C participated at the event with four teams of researchers presenting the following topics:
"Instrumentation for Assessing Air Quality"
"Role of earth's early atmosphere and electrical discharges in the origin of life"
"Untangling Emissions: Examining the National Inventory and the Impact of COVID Lockdown on CO2 Emissions".
"Computational modelling to solve real world problems: from the sub-atomic to the macroscopic level"
During the event, visitors of all ages had the opportunity to get in touch with research teams, to participate in experiments and interactive games, to discuss and learn about the new innovations developed by CARE-C.
The European Researchers' Night celebrating research, innovation and science is organized in Cyprus since 2006 by the Research and Innovation Foundation (RIF), as an initiative of the European Commission, which is funded through the Marie Sklodowska Curie Actions (MSCA) of the EU's Framework-Programme for Research and Innovation. The main objective of the Researchers' Night event is to nurture a research and innovation culture and raise awareness with regards to the research activity implemented by universities, research centres and innovative companies.