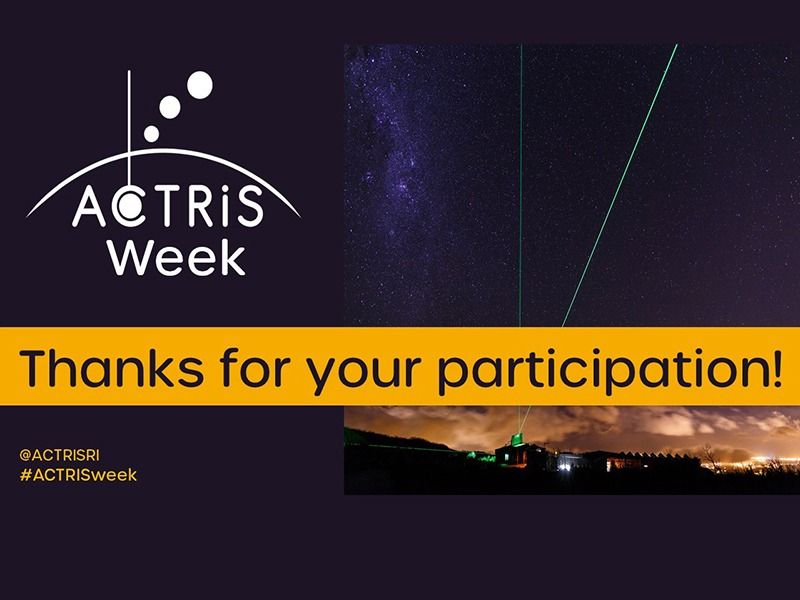 CARE-C presents at ACTRIS Week
Taking place over the 26th – 28th of October 2020, ACTRIS Week, held virtually this year due to the COVID-19 pandemic, attracted over 300 registrants, making it the most attended ACTRIS event to date.
ACTRIS Week was the first event to gather ACTRIS Community and update on ACTRIS progresses, including the outcomes of the first 10 months of the ACTRIS IMP project. The session, open to public, promoted ACTRIS activities in relation to COVID-19 and featured a lively panel discussion among Martine de Maziere (BIRA-IASB), Werner Kutsch (ICOS ERIC), Vincent-Henri Peuch (ECMWF-Copernicus), Mikhail Sofiev (FMI), and Claus Zehner (ESA).
CARE-C scientists, researchers and technical experts actively contributed to a number of sessions throughout the week, including in the "In situ" session with presentations on Bioaerosols and Health Variables by Prof Jean Sciare and Prof Nikos Mihalopoulos respectively.
The Aerosol, Clouds and Trace Gases Research Infrastructure (ACTRIS) mission is to integrate, harmonize and distribute the high quality observations provided by first-class facilities for atmospheric research located in 22 European countries and other locations worldwide and to operate the Pan-European distributed research infrastructure providing open and effective access to unique resources and services to a wide user community of Earth system research.
More information about ACTRIS at http://actris.net/