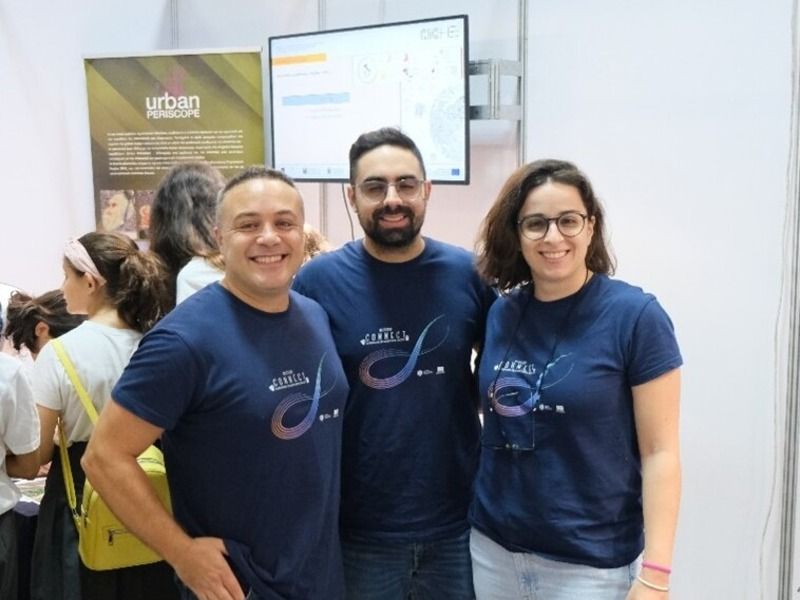 CARE-C participates in European Researcher's Night 2023
On Friday, 29 September 2023, researchers of CARE-C at the Cyprus Institute, among other colleagues from the Institute, actively participated in the 2023 European Researcher's Night that took place in the Cyprus Expo in Nicosia. The Cyprus Institute showcased the work of the Sustainable Built Environment Group in a joint booth with colleagues from EEWRC, STARC and CARE-C, under the title "I never thought trees were so important to the city".
The information and activities presented at the booth were part of a multiplier event promoting the Erasmus+ 'Climate Change, Cities, Communities, and Equity in Health' (CliCCHE) project, which CARE-C researchers have been part of. During the event, school students from across the island and other visitors were exposed to some problematic aspects of Strovolos Avenue and were asked to re-imagine it, from a citizen-friendly point of view. By the end of the school visits, a large collection of visual depictions of a reclaimed avenue were displayed on the walls of the booth and participants were engaged in discussions on the role of co-participatory activities involving citizens and other stakeholders. Side activities included outdoor walks and photo shooting with IR thermal camera showing the impact of greenery on urban material, virtual reality application showing the impact of climate change on the Pedieos area close to Strovolos, and dissemination of previous results of the CliCCHE Local Workshops, including student work, e-learning videos and web tutorials.
The multiplier event for Cyprus was a great success, with a large participation of students and the public, and interactive activities and discussions that stimulated visitors to discuss and exchange experiences. Having a non-formal, conversational style and a relatable example of a highly popular and frequently used urban area made this even more intriguing, since participants were able to share their personal encounters and wishes for their cities. In addition to members of the municipality, students and the general public, the event was attended by researchers from other institutions, teachers, professors, private business owners and the Deputy Minister of Research, Innovation and Digital Policy.