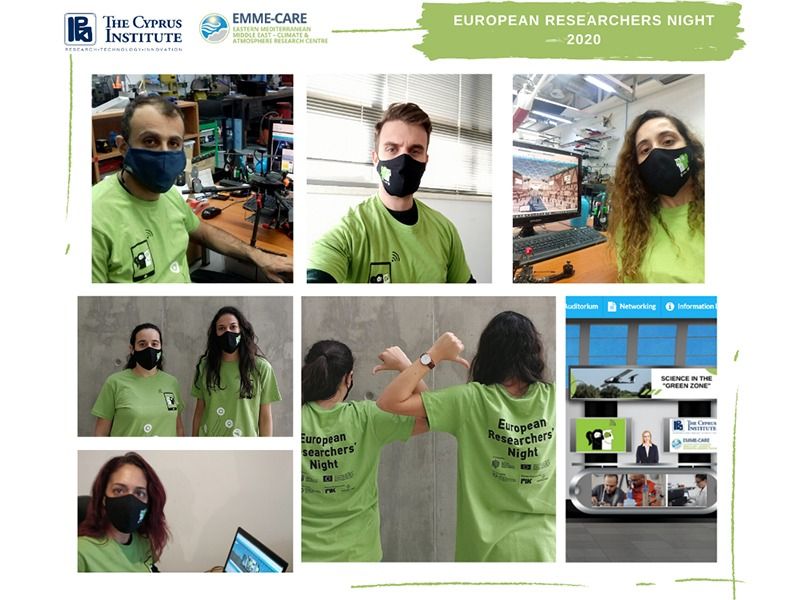 CARE-C participates at European Researchers Night 2020
Organized by the Research and Innovation Foundation (RIF), European Researchers' Night 2020 was organized virtually for the first time, due to the pandemic on Friday, 27th of November 2020.
The European Researchers' Night, funded under the Marie Skłodowska-Curie actions (MSCA), is a Europe-wide public event that brings researchers closer to the public. The Night provides researchers the opportunity to showcase the diversity of science and its impact on citizens' daily lives, and to stimulate interest in research careers – especially among young people. The events, held annually in 400+ cities in Europe and beyond, highlight how researchers contribute to our society by displaying their work in an interactive and engaging forum.
The central theme for Researchers' Night 2020 was "Green and Smart Cities" promoting biodiversity, climate, health, wellness and air quality, as well as social cohesion and sustainable development, while also encompassing activities from all scientific fields, in line with the event's motto "Science is for all".
CARE-C participated with a dedicated booth in the Exhibition Hall with the title "Science in the Green Zone" and the participation of 18 researchers from across the Centers. Visitors were able to find out more about how climate and atmosphere research and innovation contribute to the protection of the Cyprus environment and help CyI researchers and scientists build "green" and smart cities. Visitors also had the opportunity to see the drones developed at the Cyprus Institute Center in action and learn more about the smart technologies that are being developed at CARE-C. Finally, visitors were able to see experiments that, through the use of everyday objects and scientific instruments, showcase natural phenomena relevant to research activities, as well as to discover climate models developed by CARE-C researchers that demonstrate why and how, our cities need to change for a "greener" and safer future.
Visitors were also able to ask questions and interact with CARE-C researchers via live chat, that was available throughout the day. The participation of CARE-C was made possible through the contributions of Prof. Jean Sciare, Director of Climate and Atmosphere Research Centre (CARE-C), Prof. Jos Lelieveld, Associate Professor George Biskos, Associate Professor Panos Hadjinicolaou, Managing Coordinator Yiannis Proestos, Associate Research Scientist in Regional Climate Change Modelling George Zittis, Associate / Post-Doctoral Fellow Spyros Bezentakos, Associate Research Scientist Anne Maisser, Research and Development Scientist Christos Keleshis, Electrical/Electronic Engineer for Unmanned Aerial Systems (UAS) Panayiota Antoniou, Associate Research Scientist in Experimental Atmospheric Sciences Michalis Pikridas, Technical Research Specialist in Atmospheric Sciences Maximilien Desservettaz, Research Assistant in Air Quality Instrumentation Marinos Costi, Research Assistant in Aerosol Science and Technology Roubina Papaconstantinou, Nanotechnology Research Laboratory Technician Kleanthis Erotokritou, Post-Doctoral Research Fellow Katiana Constantinidou, PhD Student Athanasios Ntoumos, PhD Student Anna Tzyrkalli, and Intern Nikoleta Lekaki.