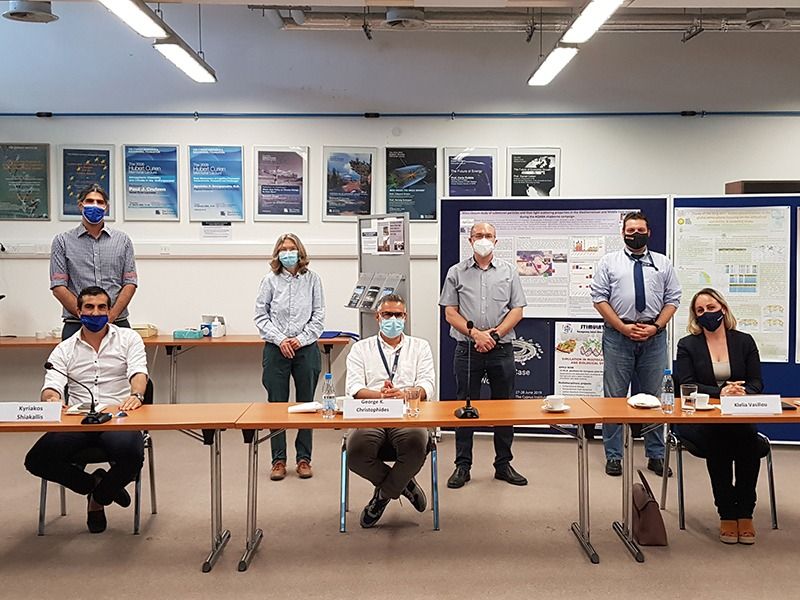 CARE-C meets with Cyprus Commissioner for the Environment
On Monday, 17th of May 2021, the Commissioner for the Environment, Ms. Klelia Vasiliou, along with the Program Development and Management Officer for the Office of the Commissioner for the Environment, Mr. Kyriakos Shiakallis, visited the premises of the Cyprus Institute's in Nicosia. Specifically, the meeting took place at the Novel Technologies Laboratory (NTL) Building, which houses the CARE-C Center of Excellence.
The meeting was hosted by Prof. George Christophides, President of the Cyprus Institute (CyI), in the presence of CyI's Assistant Vice President for Institute Affairs, Dr Nicolas Jarraud, CyI's Associate Professor on Hydrology and Water Management, Adriana Bruggeman, and CyI's Associate Research Scientist in Water and Natural Resource Management Research and Economics, Christos Zoumides. CARE-C was represented by the Center's Head of Research & Innovation Support Operations and Scientific Coordinator, Mr Pierantonios Papazoglou.

The meeting was focused on identifying opportunities for furthering collaboration and impact in matters of climate, water and sustainable development which are of critical importance to Cyprus, further to the signature of an MoU focused on this scope in 2019. The discussion also covered the wider Sustainable Development Goals agenda and the collaborations role in supporting Cyprus meet relevant targets.
Further joint environmental activities are set to be announced as a follow-up to the visit.