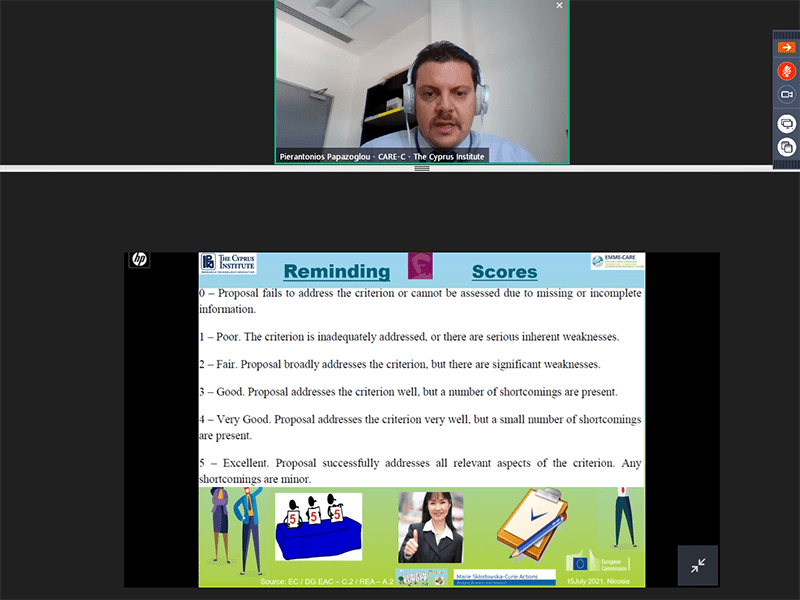 CARE-C Hosts Online Workshop on MSCA Postdoctoral Fellowships Preparation
On 15 July, CARE-C successfully hosted an Online Workshop on proposal writing for prospective applicants to the MSCA Postdoctoral Fellowships 2021 Call.
The workshop briefly introduced CARE-C as a prospective Host, and focused on providing practical advice and support to prospective applicants on key aspects of proposal preparation, including:
Better comprehending the content & rules of the call
Understanding the "reviewers' mind-set" and use it in proposal writing
Deciphering what is the expected content per evaluation criteria;
Utilizing practical "hints & tips" for competitive proposal writing
The workshop was attended by interested applicants and those looking to find out more about the 2021 Call.
The workshop's speaker was Mr Pierantonios Papazoglou Manager of the Research-&-Innovation Support-Operations (RISO) Unit of the Climate and Atmosphere Research Centre-of-Excellence (CARE-C) at The Cyprus Institute (www.cyi.ac.cy), and former MSCA National Contact Point and Programme Committee Member for Cyprus, from 2008 to 2017. Especially for MSCA, he is known for being the initiator and main author of the unofficial support handbook "Survivor's Guide".
If you didn't have the chance to participate in the online workshop, a recording of the session can be accessed here. For more information about applying for an MSCA Postdoctoral Fellowship with CARE-C, The Cyprus Institute as your host organization, please see here.