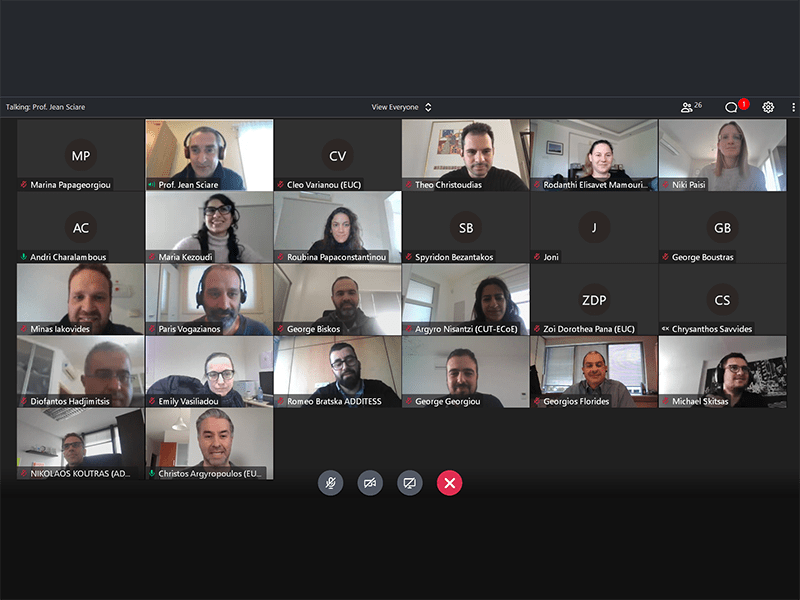 CARE-C hosts annual meeting of AQ-SERVE project
On the 19th of January, CARE-C hosted the annual partner meeting of AQ-SERVE. The meeting was held virtually, with participation from all project partners, where so-far project results were discussed and key actions were set and agreed for the implementation of the project's final year.
Launched in December 2018, the AQ-SERVE1 project will provide the first-ever risk assessment and evaluation of the health impact of air pollution in Cyprus. AQ-SERVE aims to utilize best-in-class scientific and technological resources to identify the most efficient pollution abatement measures for improving air quality in Cyprus, and enable tangible benefits for public health, the environment, and the economy of Cyprus through the creation and updating of a National Air Quality Action Plan for Clean Air in Cyprus.
In addition to the Cyprus Institute – CARE-C, which is the Coordinator of the project, the AQ-SERVE Consortium brings together another two European Centers of Excellence, ERATOSTHENES: Excellence Research Centre for Earth Surveillance and Space-Based Monitoring of the Environment (EXCELSIOR) of CUT, as well as the Cyprus Safety and Health Organization, the SME ADITESS and three Cyprus Government Departments; the Department of Labour Inspection, the Department of Environment, the Department of Meteorology.
More information about AQ-SERVE at https://aqserve-project.com/
AQ-SERVE (Project INTEGRATED/0916/0016) is co-financed by the European Regional Development Fund and the Republic of Cyprus through the Research and Innovation Foundation.