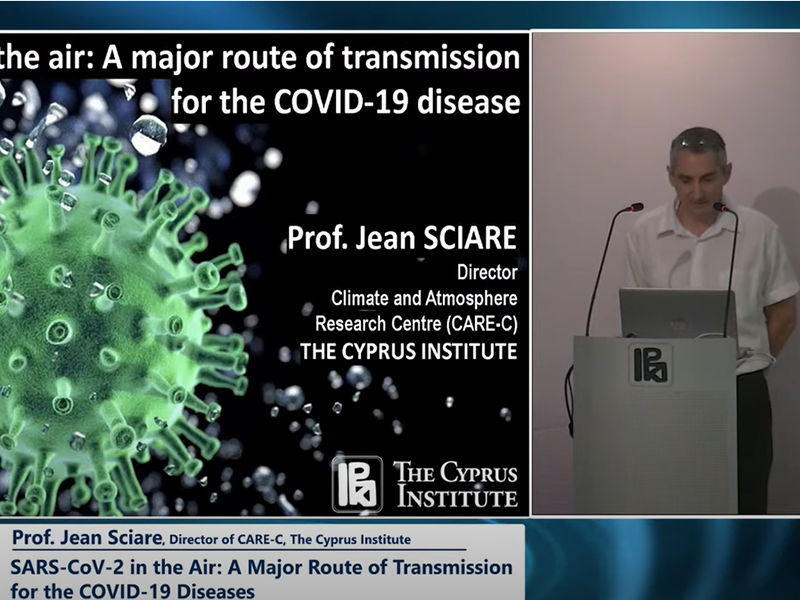 CARE-C Director, Prof. Jean Sciare, delivers webinar on airborne transmission of novel coronavirus
Infected individuals coughing, sneezing, or exhaling (when speaking) produce a large quantity of virus-laden droplets and aerosols that can remain in the air for several hours. Every new scientific paper on airborne transmission of SARS-CoV-2 brings more evidence on the importance of this mechanism in the transmission of the COVID-19 diseases.
On Thursday the 21st of May, Prof. Jean Sciare, Director of the Climate and Atmosphere Research Center of the Cyprus Institute and Coordinator of EMME-CARE, presented the webinar entitled "SARS-CoV-2 in the Air: A Major Route of Transmission for the COVID-19 Diseases". The webinar provided a brief overview and synthesis of the most recent scientific studies published on the characteristics of airborne SARS-CoV-2. Size distribution (between droplets and aerosols), viability, and atmospheric dispersion mechanisms were discussed.

The presentation also introduced current research activities initiated on this topic by the Cyprus Institute in collaboration with the Cyprus Institute of Neurology and Genetics, the Intensive Care Unit of the Nicosia General Hospital, and the Cyprus Civil Defence. The objective of this research (supported by the "CyI COVID-19 Internal Research Call") has been to demonstrate the added value of a "Bioaerosol Network" in monitoring the presence of airborne SARS-CoV-2 within large indoor public areas to alert on the potential risk of local contamination, and therefore allow for immediate mitigation actions (shutdown and disinfection). If operated continuously, such bioaerosol networks could become an early warning system to geolocate the presence of new infectious clusters, information which is strategic for combating the large-scale spreading of the virus.
This webinar, was part of a new webinar series launched by the Cyprus Institute. The series comes as an extension of the Institutes' traditional Seminar and Colloquia Series aimed at promoting and disseminating scientific knowledge and features prominent researchers from around the world.
You can catch the "SARS-CoV-2 in the Air: A Major Route of Transmission for the COVID-19 Diseases" on replay here.
To find out more about upcoming webinars in the Cyprus Institute's new series visit cyi.ac.cy.
About the speaker
Prof. J. Sciare is the director of the Climate and Atmosphere Research Center (CARE-C) and the Energy Environment and Water Research Center (EEWRC) of the Cyprus Institute. His main expertise covers the experimental characterization of atmospheric aerosols; addressing issues related to their impacts on air quality, health and climate. He is (co-)author of more than 110 international refereed publications (H-index 34) and more than 150 presentations at international conferences devoted to atmospheric chemistry and physics.