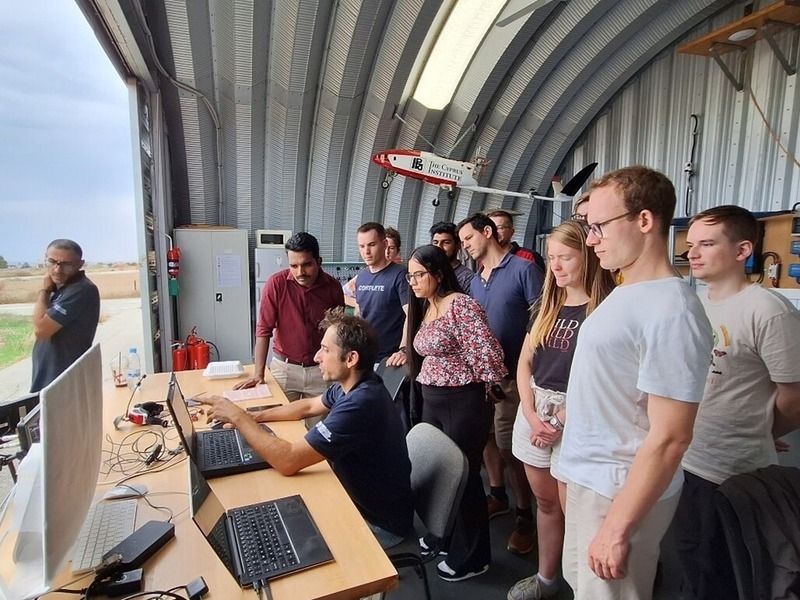 Autumn School 2023 'Atmospheric Measurements Using Miniaturised Sensors and Drones' successfully concluded
The 2nd Autumn School, organised by CARE-C of the Cyprus Institute, entitled 'Atmospheric Measurements Using Miniaturised Sensors and Drones', held from 30 Oct-3 Nov, 2023, has successfully been concluded!
The week-long course took place at the Cyprus Institute's premises in Nicosia, Cyprus and it was attended by 13 students from 10 different countries including Lebanon, Finland, the UK, India, Belgium and other.
The main focus of this year's autumn school was both practical and theoretical approaches in miniaturised sensors and drone technologies and it included short lectures as well as a field trip to Orounda airfield where students had the opportunity to participate in drone test flights and collect data that were further analysed and reported. The aim of the course was to teach the students the whole cycle of scientific field work, from how to design measurements, collect data, analyse data to publishing a report of the experimental work and data.
This Autumn School was organized within the framework of the H2020 Teaming Project EMME-CARE (emme-care.cyi.ac.cy), and the Horizon Europe project Edu4Climate (edu4climate.cyi.ac.cy). Course organization was led by CARE-C, The Cyprus Institute, with the contribution of the EMME-CARE Advanced Partners and the Edu4Climate Consortium partners.